Best neuro hospital and neuro physician in Bangalore
Marvel Multi-specialty Hospital is one of the leading Neuro hospitals in Bangalore with the finest team of doctors as well as medical staff that provides you with healthcare services 24/7 at your ease. At the hospital, you can get the assistance of the best neuro physician in Bangalore with the best consultant for all neuro-related problems. Neurology is a branch of medicine that is concerned with the study and treatment of disorders of the nervous system. The nervous system is a complex, sophisticated system that regulates and coordinates body activities. It has two major divisions:
Central nervous system: the brain and spinal cord
Peripheral nervous system: all other neural elements, such as eyes, ears, skin, and other "sensory receptors"
Whereas, a Neuro Physician is a medical doctor with specialized training in diagnosing, managing disorders, and treating the brain and nervous system including many more issues for neurological disorders. A neuro physician is also called a Neurologist. A detailed list of services is provided that is related to the brain, spinal cord, and nerves that are treated at Marvel Multi-specialty Hospital:
Cerebrovascular disease, such as stroke
Demyelinating diseases of the central nervous system, such as multiple sclerosis
Headache disorders
Infections of the brain and peripheral nervous system
Movement disorders, such as Parkinson's disease
Neurodegenerative disorders, such as Alzheimer's disease, Parkinson's disease, and Amyotrophic Lateral Sclerosis (Lou Gehrig's disease)
Seizure disorders, such as epilepsy
Spinal cord disorders
Speech and language disorders
Your nervous system is your body's command center that controls whole-body functioning. To take care of your neuro-health is our responsibility. Get the best kind of consultant with a hassle-free method at the Marvel Multi-specialty Hospital in Bangalore. We put our best for your health, and the expertise of our Neuro Physician can help you to get the finest medication at affordable rates in your city.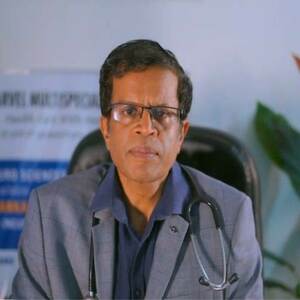 Dr. Ravishankar Reddy
MBBS, MD, DNB (NEURO)
Consultant Neurologist
Experience: 26 Years